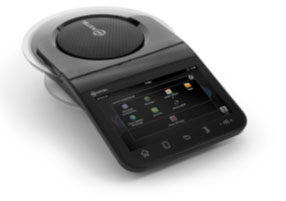 You know the value of face time and team collaboration, but does the thought of going through all the trouble of setting up a video conference make you feel as though it'd be easier to just travel to a meeting instead? It doesn't have to.
Video Conferencing is as easy as making a phone call with the MiVoice Video Phone. There's no need to plan ahead or use a third-party service. In fact, you can even initiate a video conference or collaboration session mid-meeting, when the occasion for impromptu brainstorming and idea sharing often arise.
The device's in-room presentation capability allows for easy sharing of documents through a variety of methods, including cloud-based services. Or, you can collaborate with remote parties by connecting to a Web-based collaboration session using the built-in Web browser. That means there's no need to interrupt discussions or schedule another meeting in order to share visuals.
Key Features and Functionality
Superior sound quality with high-definition (22khz) audio.
Automatic video call escalation once an audio call is placed.
Built-in high-resolution seven-inch color touch-screen display with full multimedia support and in-room presentation display capabilities.
An embedded Picsel SmartOffice Suite enables the ability to view and modify PowerPoint®, Word, Excel® and PDF files.
Web-browser allows multimedia support for access to cloud-based services, such as Gmail, Exchange Web for contact dialing and chat functions.
Provides the ability for multimedia content to be sent to remote parties over the video stream.
Can be connected to other third-party video conferencing and collaboration systems.
Flexible bandwidth deployment options allow it to work within an existing network environment.