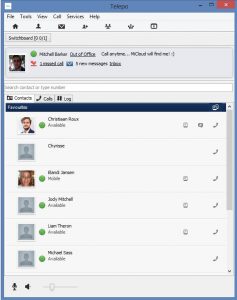 Computers and mobile phones are increasingly becoming the preferred enterprise working tools. Professional integration of these devices with the communication network provides enterprises with improved business efficiency and team collaboration, faster decision making and better control of communication costs.
MiCloud for Desktop delivers a range of sophisticated services for both PC and Mac desktop environments. Even though the underlying technology for the two operating systems is different, the user experience, management and level of available communication services are the same – enabling a mixed device environment where people use their technology of choice in one communication network.
MiCloud for Desktop, provides a dedicated communication environment specifically for business users and attendants working within the office or remotely. These award winning applications deliver an excellent user experience and provide a professional working environment for communication services such as telephony, advanced directory search, click-to-dial, SMS, IM, real-time line state and presence based intelligent call routing.
The main features includes the following:
Basic call handling – place, answer, record, hold and retrieve calls
Call transfer
Instant messaging between users
Access or Setup Conference calls
Directory search
Presence handling