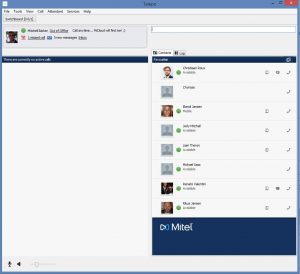 MiCloud for Desktop delivers a range of sophisticated services for both PC and Mac desktop environments. Even though the underlying technology for the two operating systems is different, the user experience, management and level of available communication services are the same – enabling a mixed device environment where people use their technology of choice in one communication network.
MiCloud for Desktop provides different user views optimized for use and application.
STANDARD VIEW
The standard view supports two different user categories, users needing only PBX, standard call handling and search capabilities or the advanced user category that has the full unified communications capability of the solution. The advanced user view contains directory search with presence information, instant messaging, SMS, and advanced call handling options as well as moving calls seamlessly between the user's phones. The standard call handling options include call hold, call park, resume, recording, attended and blind call transfer and ad hoc conferencing.
The more advanced call options available include bypassing of diversion rules and ongoing call intrusion.
The user can select if new calls should be made through the application or through the mobile phone of the user.
This makes it convenient for the user who can use the interface on the computer to place calls but perform calls on a mobile or IP desk phone.
ATTENDANT VIEW
The Attendant view is designed for intuitive usability when handling many calls. The Attendant view has the active and queued calls to the left and the contact list and directory search to the right. This allows for better visibility and easy transfer of calls by drag and drop. Attendants can utilize the "Camp on" feature, which allows an attendant to transfer a call to a busy extension, by creating a personal queue. Attendants can distribute calls based on skill, longest idle or randomly, but with a minimum resting time.
Visual notification on transferred calls if they have not been picked up within a set time ensures that no calls are lost.
Attendants can also pick-up calls for other users.
Features include:
Camp on
Attendant keyboard bindings
Attendant view in Softphone
Attendant agents using Softphone have pre-defined SMS and email templates to send a message to , e.g. "[Name] [Number] tried to reach you at [time] [date]"
Highlighted search result